User Guide
InvoiceNow with FACT ERP.NG
Today businesses face challenging times. We have taken the far-sighted approach to incorporate Inter-Business digitalization technologies to improve our customers' efficiency. One such improvement we have undertaken is to get on-board the nationwide E-Invoicing network, known as InvoiceNow.
​InvoiceNow allows suppliers to send their e-invoices from their finance system directly into buyers' finance/ERP systems saving time, cost and effort as well as reducing potential errors so that invoices can be processed more efficiently.
Here is a small video guide of How to Send, Receive and Process e-Invoices
on FACT ERP.NG : https://youtu.be/jylIwxkgNmo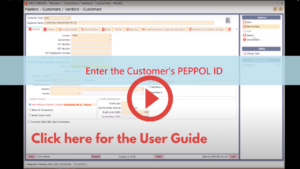 FACT ERP.NG InvoiceNow (PEPPOL) User Guide
Step 1: Click on the  InvoiceNow [PEPPOL]  button on the top right of the FACT ERP.NG screen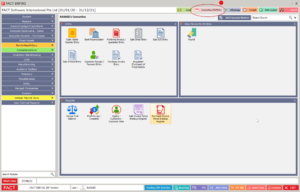 Step 2 : If you have not yet registered with our official AP Partner (eInvoice.sg Pte Ltd), click on the  Register button at the bottom  of the screen. Once you have completed the registration process and received your login credentials, please fill up and save your AP Login credentials on this screen before using the InvoiceNow function.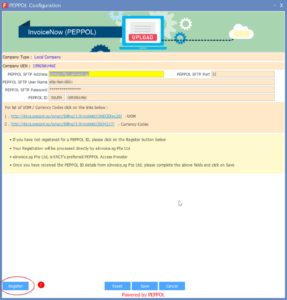 Step 3 : For your Customers & Vendors who are already registered on InvoiceNow (PEPPOL) network, you will need to update their PEPPOL ID in FACT ERP.NG (Customer Master / Vendor Master). Their PEPPOL ID is typically their UEN Number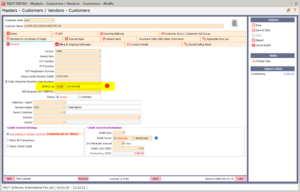 Step 4: Sending a Sales Invoice to a Customer via the InvoiceNow PEPPOL Network
When you enter and Save a Sales Invoice for a customer who is registered on InvoiceNow PEPPOL Network, FACT ERP.NG will prompt you to upload the invoice via the PEPPOL network.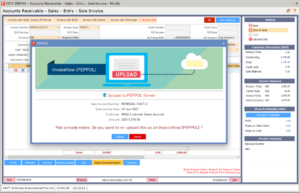 You should click on Upload if you wish to send the invoice to the customer via the InvoiceNow PEPPOL network.
If the invoice is uploaded successfully, you will see a confirmation message similar to the one below: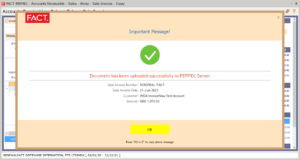 And the Invoice home screen will also display a visual indicator to show that the invoice was uploaded successfully via the InvoiceNow PEPPOL network: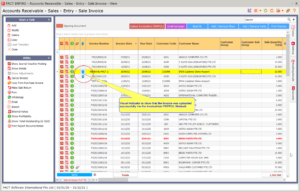 Step 5: Receiving a Purchase Invoice from a Vendor via the InvoiceNow PEPPOL Network
In the Purchase Invoice home screen, click on the  Import InvoiceNow (PEPPOL) button to check for inbound Purchase Invoice from your Vendors who are registered on the InvoiceNow PEPPOL Network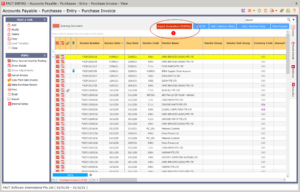 If there are any inbound Purchase Invoice (not yet imported), you will see something similar to the one below: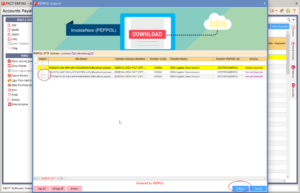 Select (Tag) the invoices that you wish to import into FACT ERP.NG and click on the  Import button to complete the process. Invoices that have already been imported earlier, will show their status as "Already Imported"
As soon as the invoice has been imported successfully into FACT ERP.NG, the Invoice home screen will display a visual indicator to show that the invoice was downloaded successfully via the InvoiceNow PEPPOL network: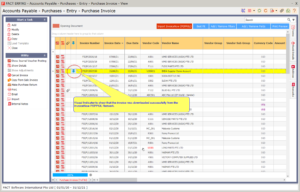 >>> End of User Guide <<<